Law Enforcement sales are up almost 70% so far this year as agencies across the country prepare for the 12/21/2012 zombie apocalypse. This trend is highly secretive as our government doesn't want civilians to know the inevitable fate of our country. Our Extreme Reactive Targets have been a popular item for SWAT team snipers. These automatic resetting targets fall when shot but rise up again after a short delay simulating waves of zombies rising from their graves. Our steel targets are made using AR500 hardened plate which is ideal for this type of intense tactical training.
Another popular target system is our Extreme Hostage Target which creates lifelike movement of the zombie behind a helpless hostage. This moving zombie target requires patience and discipline to wait for a clean head shot. We also now offer a low cost civilian version of the hostage target which sells for only $199 but requires construction of a wood base.
Challenge Targets will be sponsoring and providing targets for a civilian zombie shoot at Miami Valley Shooting Grounds in Vandalia Ohio on Saturday 10/13/2012. The shoot will take place at night from 6:30-9:30 p.m. Two hundred and thirty shooters are already registered and they are planning for a one of a kind event. This is a great way to prepare for the apocalypse and have some fun in the process.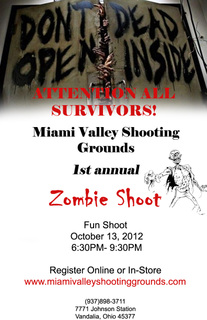 The resistance needs everyone we can get. We hope to see you there!
Shop for Zombie Targets
| | | |
| --- | --- | --- |
| Becky | MeatCake | Zombie Bin Laden |
| Twinkles | Franz | Roxie |
We carry a fine selection of zombie targets for your Halloween themed shoot. Check out the undead clowns, walker soldiers, Zombie Bin Laden, and creepy varieties like MeatCake! Invite your friends to an evening at the range and start putting those walkers down! I can't imagine having more fun than a friendly shooting competition using several Extreme Hostage Target systems in conjunction with some of these fine Zombie Targets…