We want to take a moment and thank our firends over at Tactical Defense Institue for placing their trust in Challenge Targets. We will be installing 12 new targets at TDI.
TDI is located in West Union, Ohio. All firearms classes are conducted at their Adams County, Ohio facility in Southern Ohio. The 186 acre facility provides seven ranges.
From the Press Release:
Challenge Targets was recently awarded the contract to update the main lower range at Tactical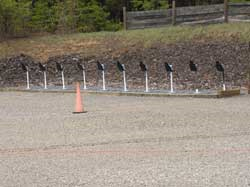 Defense Institute in West Union Ohio. The new shooting range equipment is scheduled for installation later this month and will include (12) new torso shape steel targets.
These shooting targets are made from through hardened AR500 plate. The shape is precision laser cut to minimize heat and preserve the hardness of the steel. The plates are mounted using hardened carriage bolts, die springs and nylon lock nuts. This combination of hardware minimizes fatigue and reduces the risk bullet fragments splashing back toward the shooter.
"After a full season of testing, Challenge Targets product showed no cracking or stress problems that were encountered with the welded products provided by other manufacturers." John Motil – TDI Facilities Manager.